By Kelly Augustine | From MRI-Simmons
What I discovered building the 2021 Factbook
When I was a young child, a visit to my grandparents' house was one of the best ways to spend a Saturday. Each time was pretty typical: hugs and pleasantries, Lucky Charms, etc. Even better than magical marshmallows, however, was their attic: filled with more issues of National Geographic than I could fathom counting. Neatly lined up by date of publication, the spines were a spectrum of yellow – the newest bright and shiny, the oldest faded and flat. No matter which issue I chose, I soon found myself immersed: transported to faraway places and totally fascinated – often with an actual jaw-drop – by the images and captions. Those moments were savored and special not only because of the content I was consuming, but also because they influenced the way I thought of my grandfather (not to mention the world). I observed how he took such care to save and organize each issue, and it evoked my own respect not only for the publications but also for the man whose passion made them available to me.
Many years later, I've found myself in a central role in the compilation and representation of insights for the 2021 Magazine Media Factbook. I've spent months requesting and digesting data points that convey the reach, value, and power of the print magazine industry including cross-platform brands, print issues themselves, and for agencies and brands – the subscribers and readers.
After "discovering" so many truths about the industry and its components, I realize I've suspected many of them to be true all along, starting with those special days in my grandparents' attic.
With that, I'd like to share a few of the key highlights from the 2021 Magazine Media Factbook:
1. Magnitude of Reach
The print and digital reach of top magazine publishers (Condé Nast, Hearst, and Meredith) keeps pace with that of top tech sites (Amazon, Apple, Facebook, Google). Among women 18+, top magazine publishers outperform top tech sites. The fact that 88% of American adults – that's 222 million people – read a print or digital magazine in the past 6 months isn't hard to recognize. What are the majority of airline passengers holding as they're shepherded to their seats? A magazine. What occupies the back of the toilet or standard basket in most home bathrooms? Magazines. What do my 5-year-old son and I both get excited about when we see it peeking out of the mailbox? Our magazines! No matter what age, race, or gender – there's a magazine for you.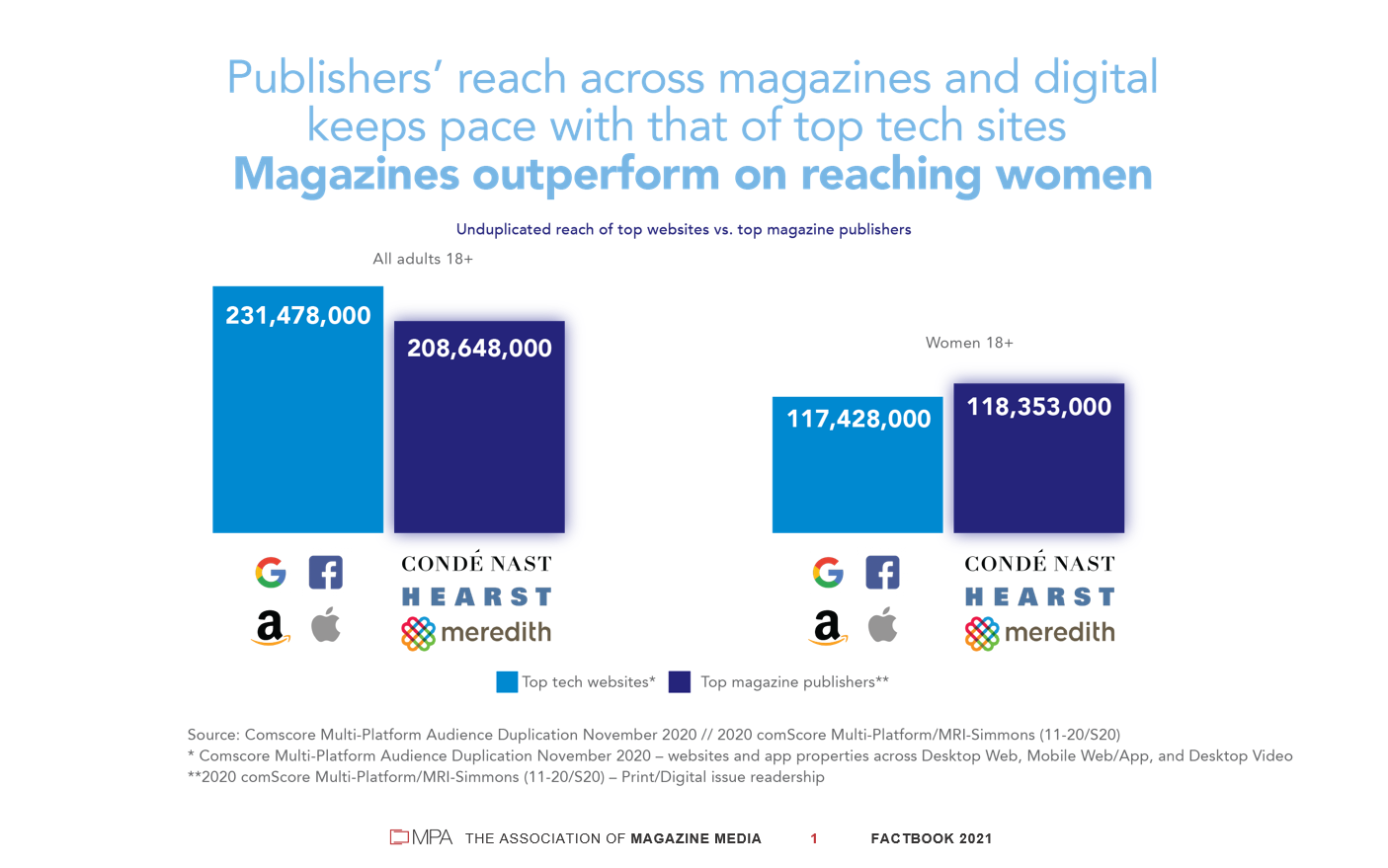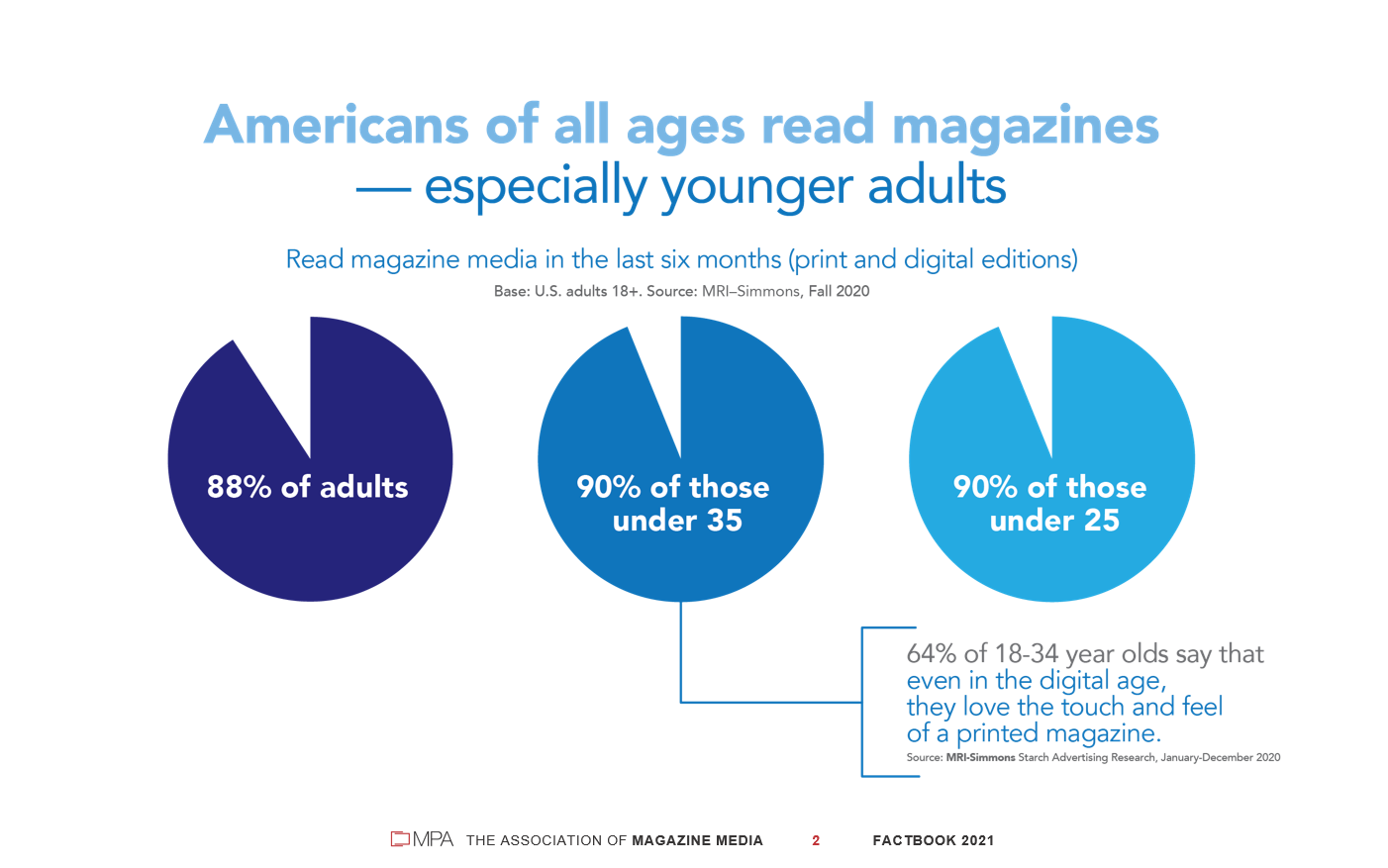 2. Focus and Immersion – particularly during COVID
Readers experience greater focus and immersion with magazines than with other types of media – especially after being overloaded with screen time during the pandemic. In fact, readers rate magazines higher than websites and ad-supported TV networks for kicking back and winding down, giving them something to talk about, and getting valuable information (among other things). Engaging with a magazine is deliberate and intentional. A magazine isn't simply "on in the background," and a print advertisement doesn't randomly interrupt the article you're enjoying. Unlike other media, print magazines allow us the freedom to control our own focus and engagement until we're ready for a welcome pause.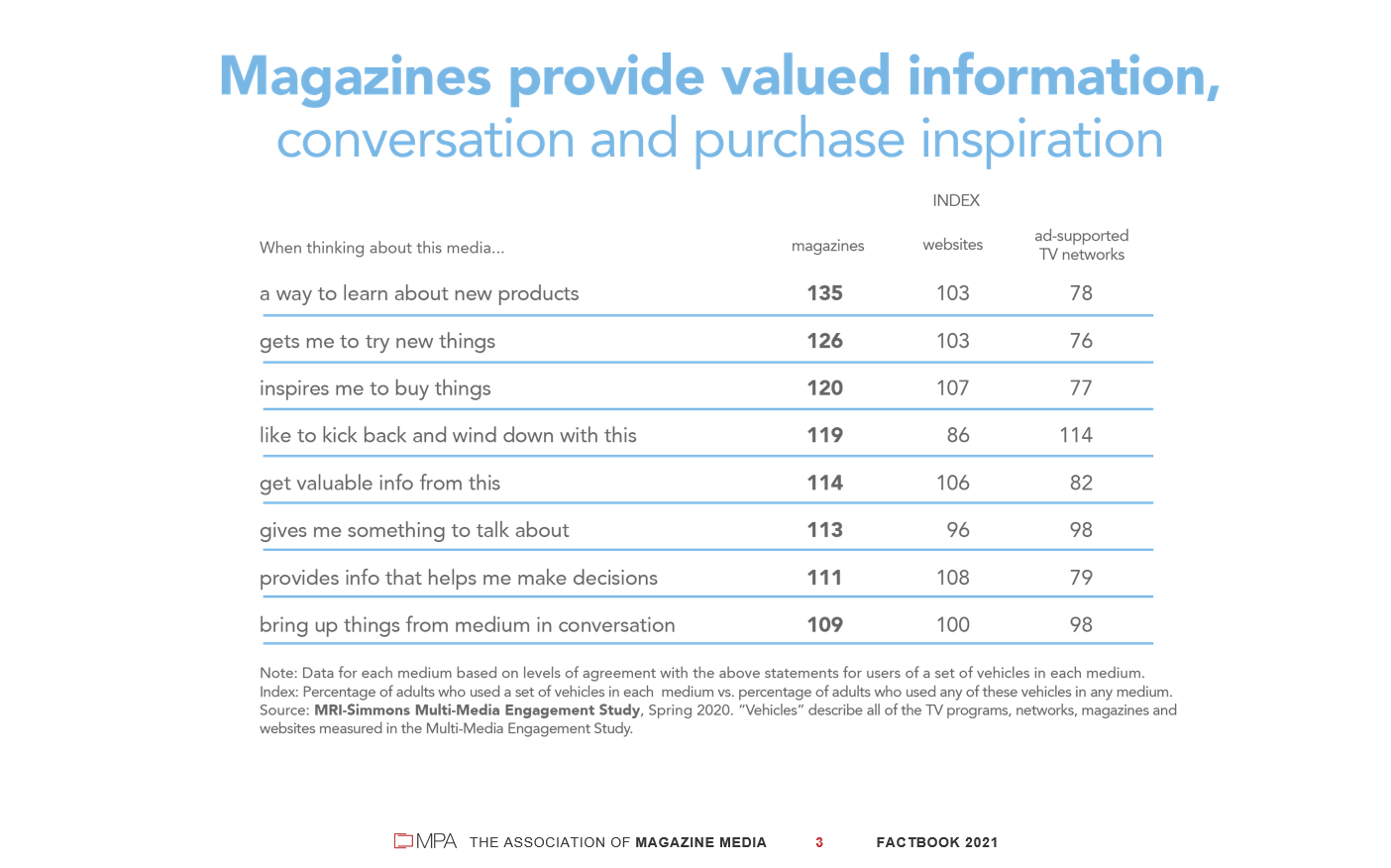 3. Effective Advertising
In magazines, ads aren't random interruptions. They are a collection of relevant messages specially curated for the audience. More than half of adults age 18-49 agree that ads in magazines fit well with the content. Just 34% and 33% say the same about TV and websites, respectively. It's no wonder, then, that ads in magazines are not only more interesting but also more effective than ads in other media. Compared to viewers of ad-supported TV and websites, magazine readers are more likely to: pay attention or notice ads, believe the advertised products/services are high quality, and feel that the ads are about things they care about. It makes sense, then, that the majority of magazine readers (68%) who notice an ad take some sort of action. When combined with cross-platform advertising (i.e., print magazine + magazine website), readers are even more likely to take action.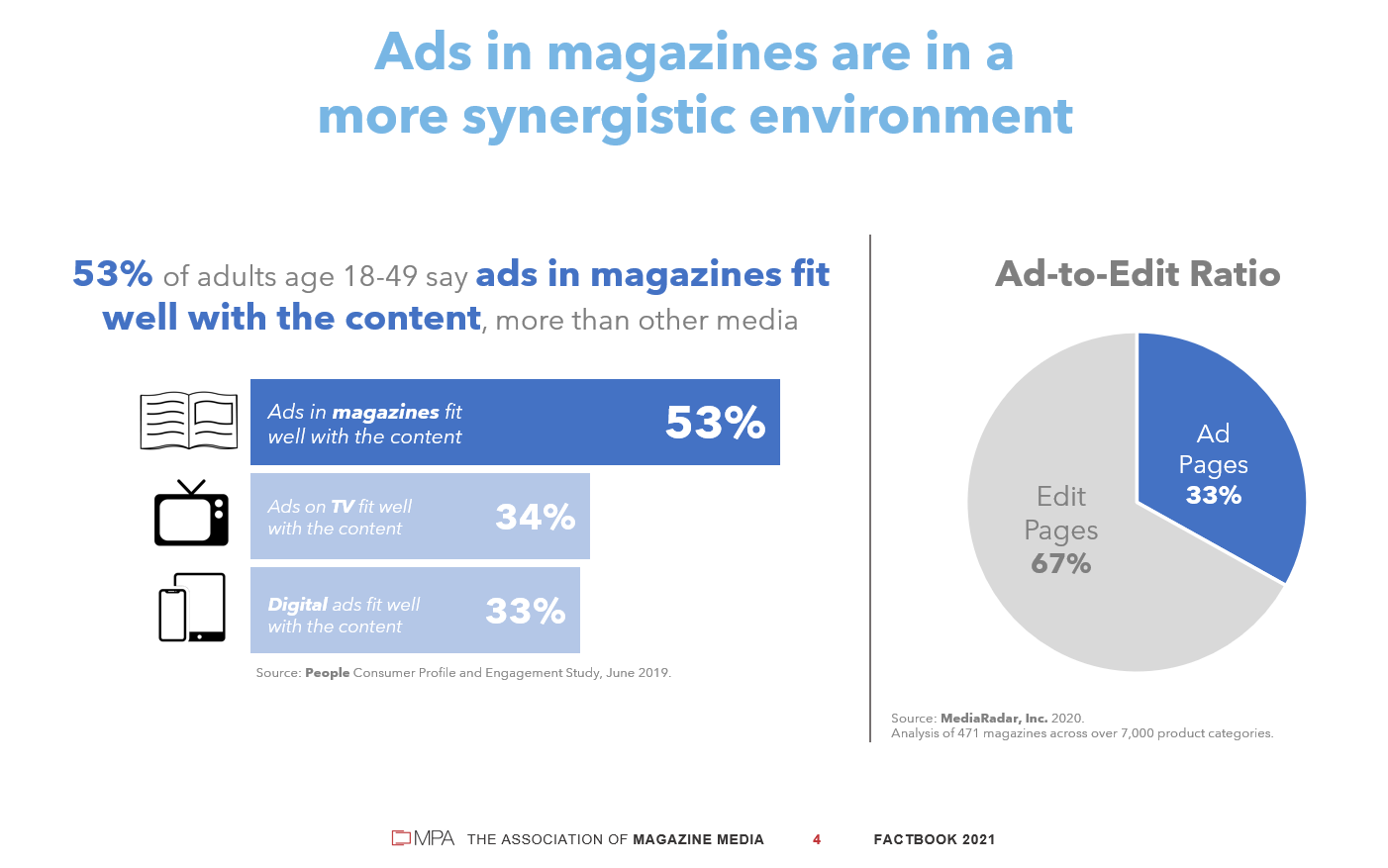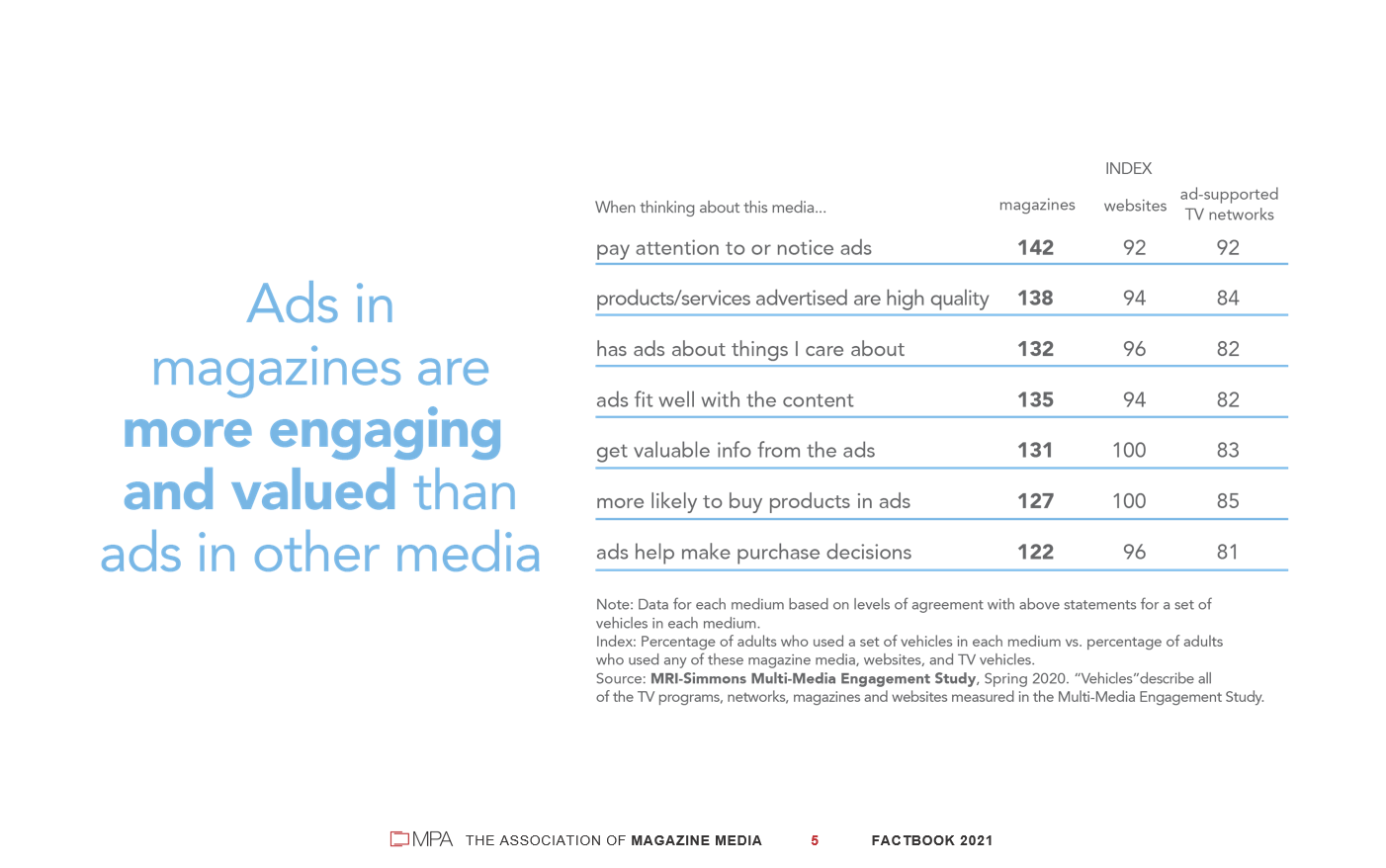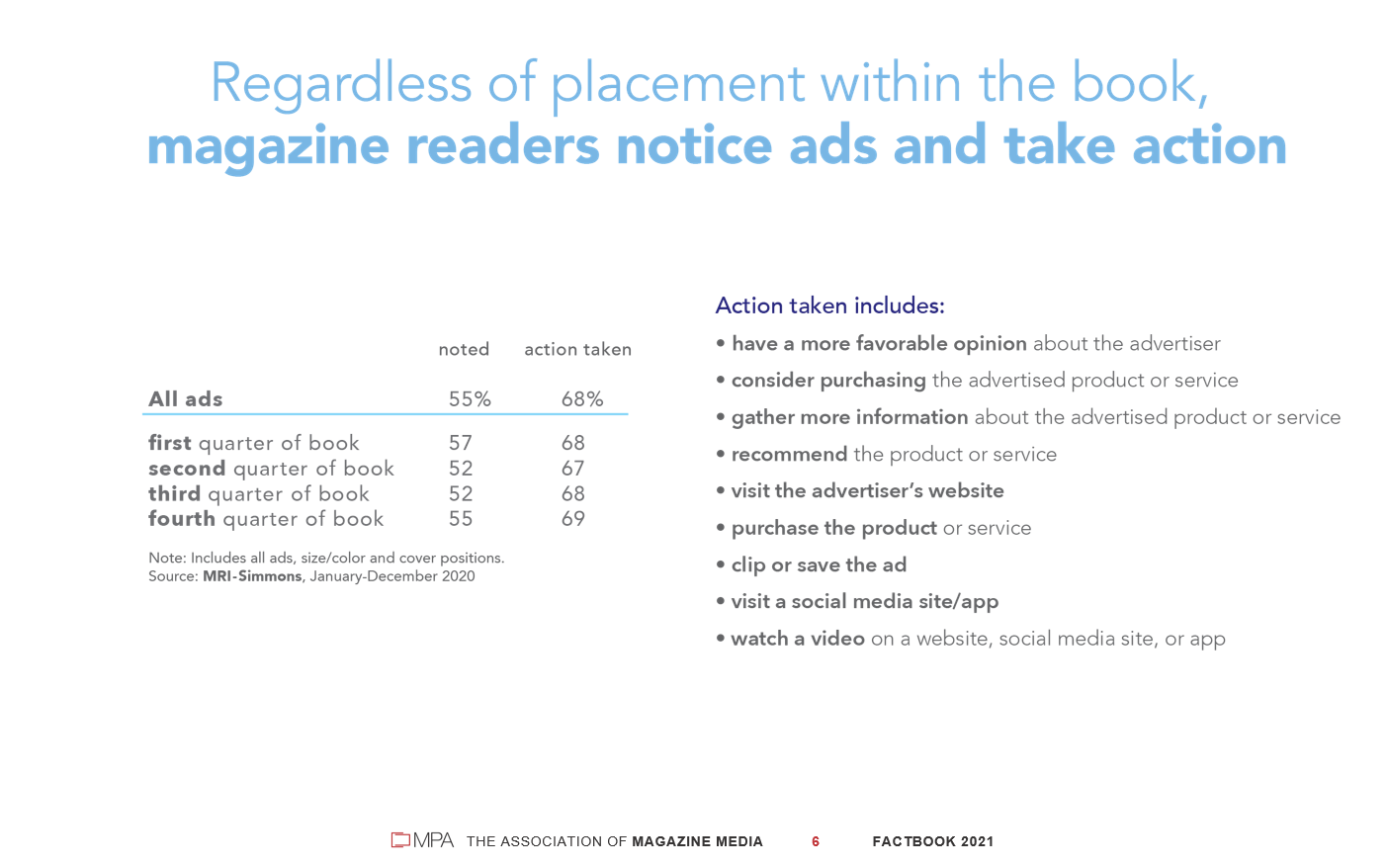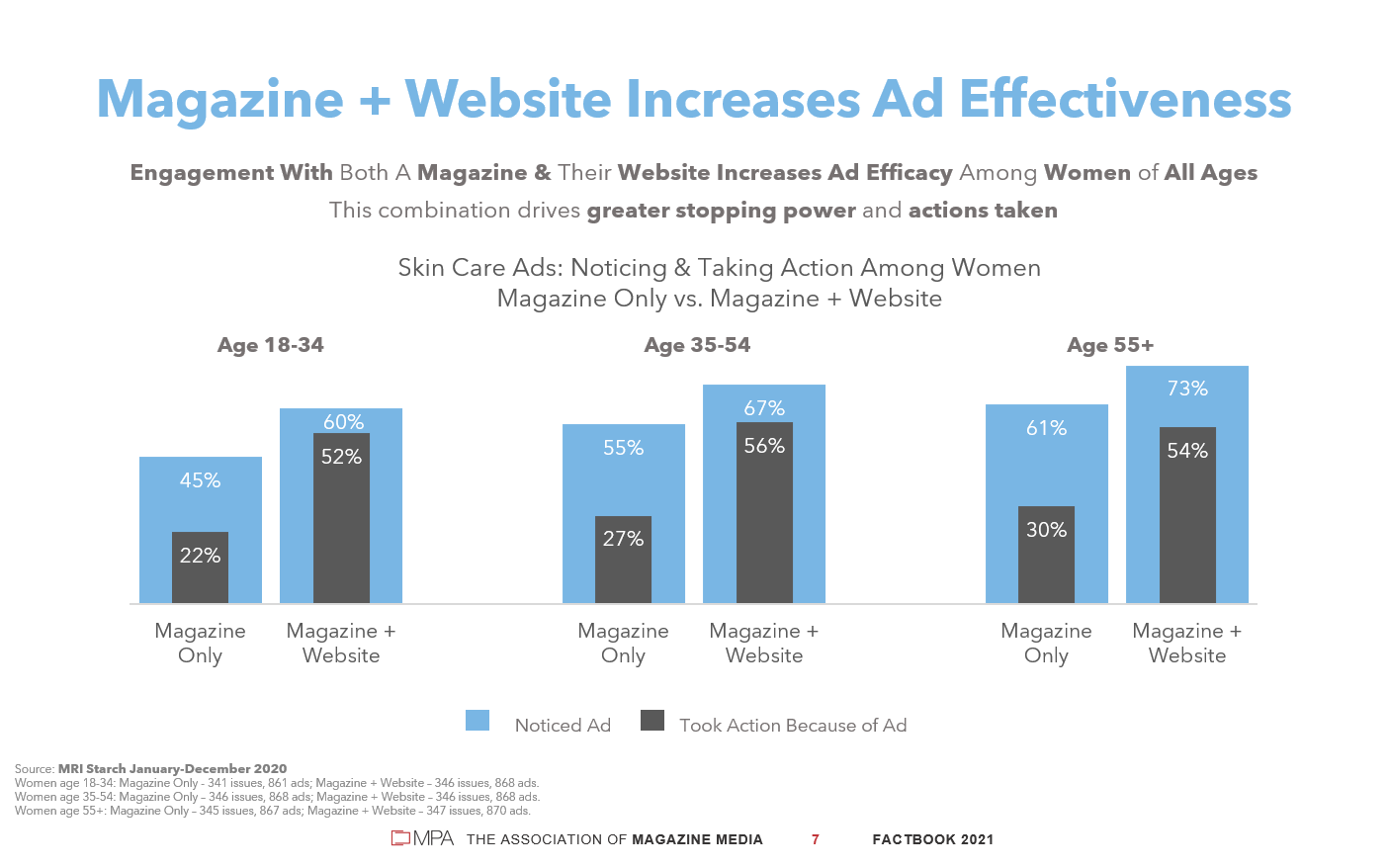 4. Trust
To say that the internet has changed the way we get information is an understatement. I'm not going to lie — I envy today's youth who never have to haul their 50-lb backpacks to the library to try to get a handle on the Dewey Decimal System. And microfiche? I was never a fan. One of the consequences of all the information everywhere all the time, however, is that we no longer know who to trust. Today, traditional media is more trusted than owned or social media, and magazine readers are more likely than viewers of websites or TV to consider the content trustworthy. The data tells us that trust in print magazine brands goes even beyond the tangible page. Adults age 18-34 are 44% are more likely to follow their favorite magazines on social media, and they're also 38% more likely to trust magazines' social posts more than other social media sources.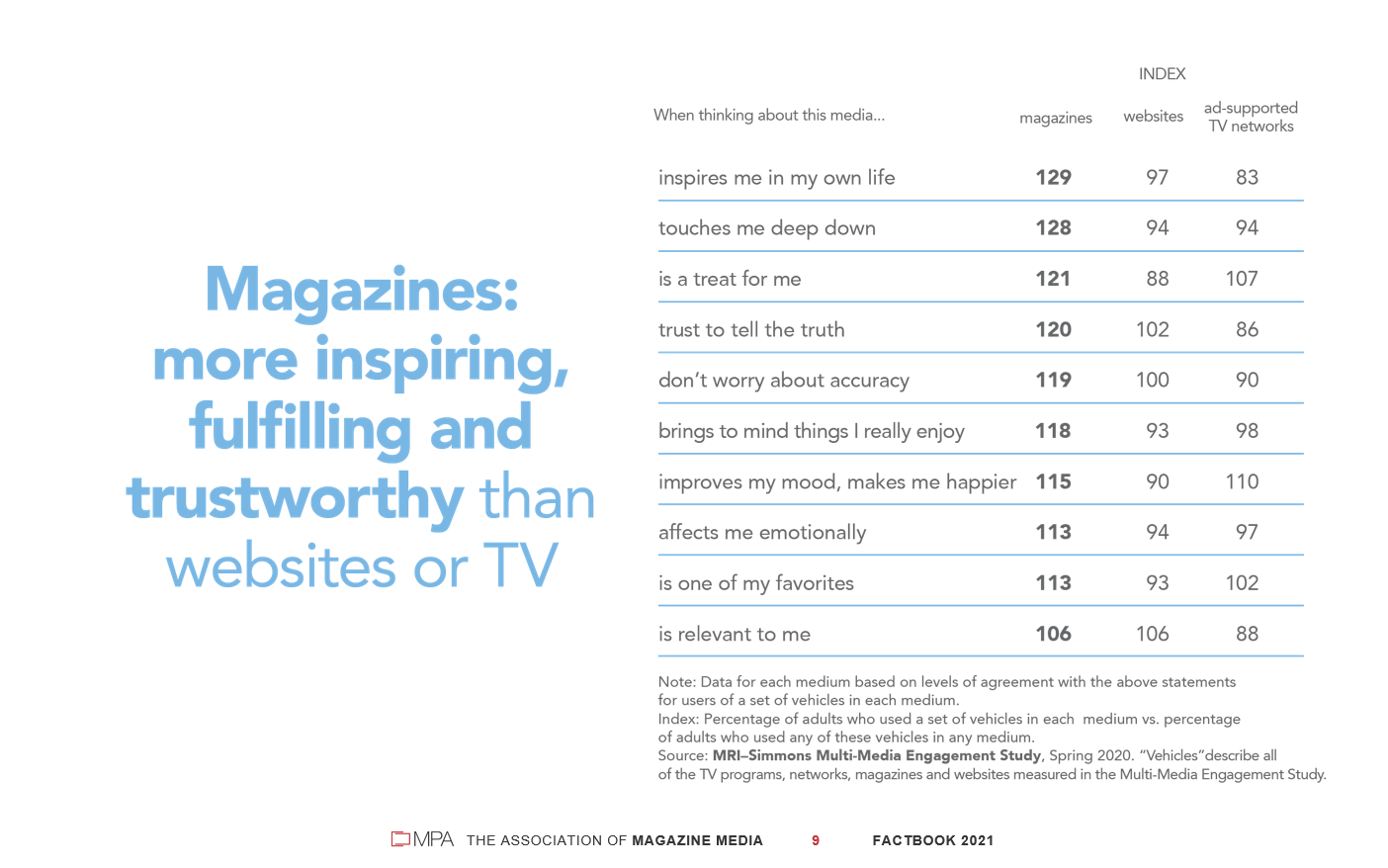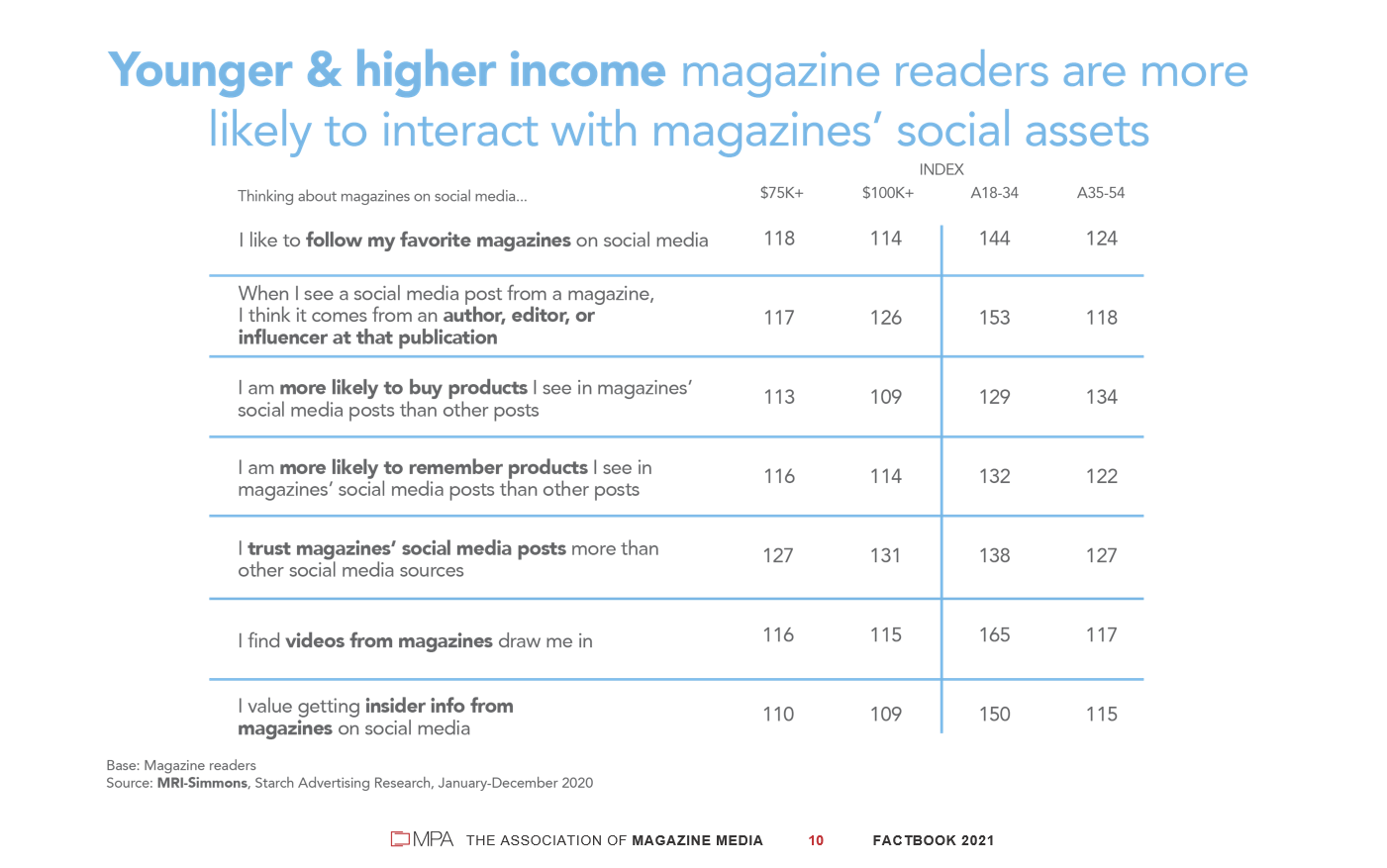 5. Unique Touch & Feel
Today, our everyday lives are feeling more "virtual" than ever before. A steady diet of clicks and swipes and dings and tweets can get a bit overwhelming, if not annoying. The materiality of print magazines is increasingly unique, and at the same time increasingly valued – even among the youngest generations. Sixty-four percent of 18-34-year-olds agree that "even in the digital age, I love the touch and feel of a printed magazine."
Particularly during COVID, magazines provided relief from over-digitalized entertainment. Fifty-two percent of women read or browsed print magazines during the pandemic and 41% say they're more welcome now than pre-COVID.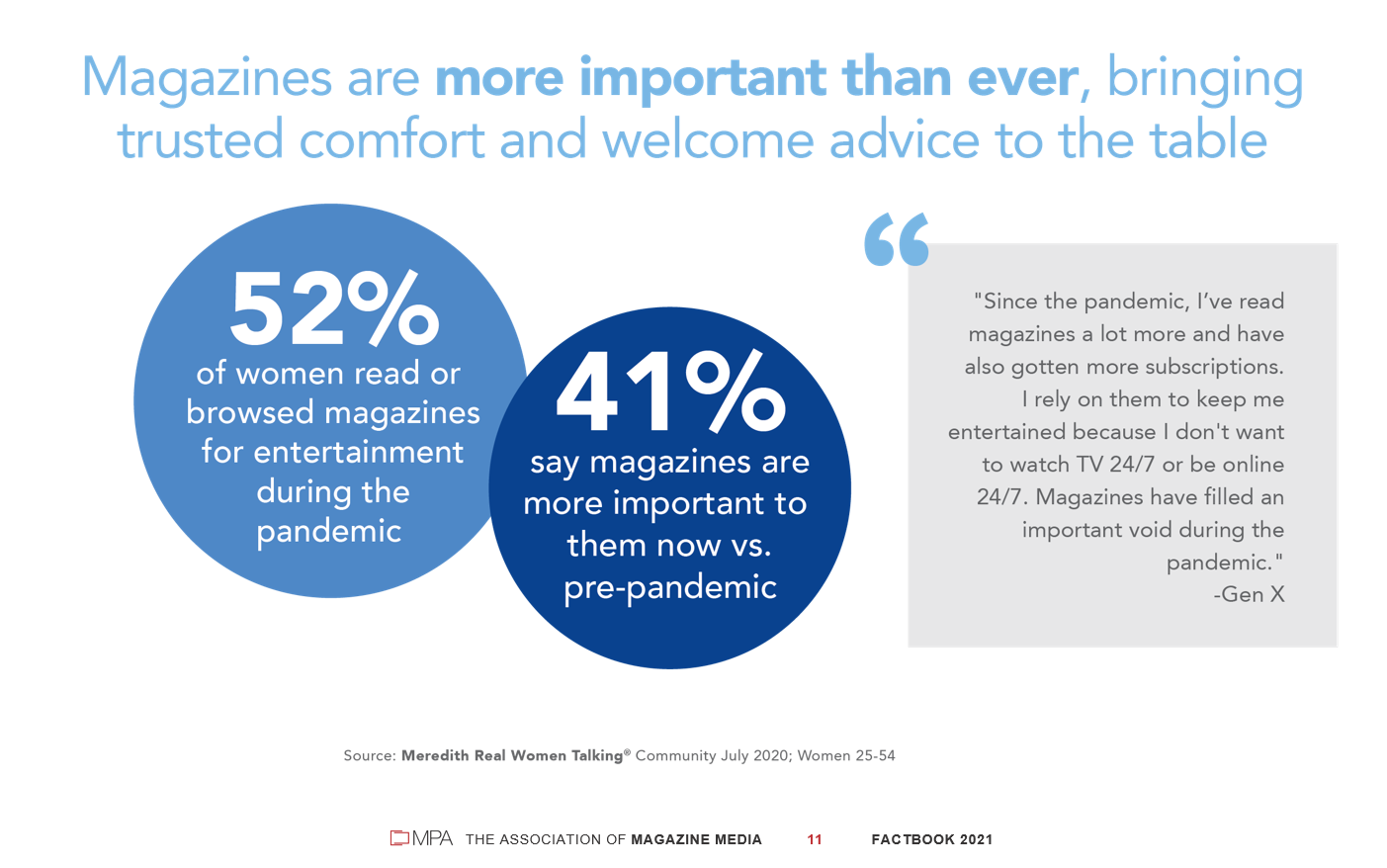 "Since the pandemic, I've read magazines a lot more and have also gotten more subscriptions. I rely on them to keep me entertained because I don't want to watch TV 24/7. Magazines have filled an important void during the pandemic." – Gen X*

*Source: Meredith Real Women Talking Community July 2020; Women 25-54.
6. Valuable Audience
My grandfather's collection of National Geographics inspired a level of awe and respect for him in myself. I see, now, that it was well due. Turns out, devoted magazine readers are more likely to be influential leaders who seek the best for themselves and the world. For example, they're more likely than devoted internet, TV, or radio consumers to:
Consider themselves leaders, adventurous, and analytical
Consider themselves more fashionable than most people
Seek out challenging situations
Pay more for products that improve their lives
Agree they have expensive tastes
Stay up to date on the latest books
Be the first to try new tech products and services
Given these trailblazing traits, it makes sense that others come to devoted magazine readers for advice and recommendations across a range of categories from food to finance to healthcare and beyond. In short, influencing a heavy magazine reader is more valuable than influencing a heavy consumer of other media. They even have more brand conversations – 102 per week compared to 76 among the general population.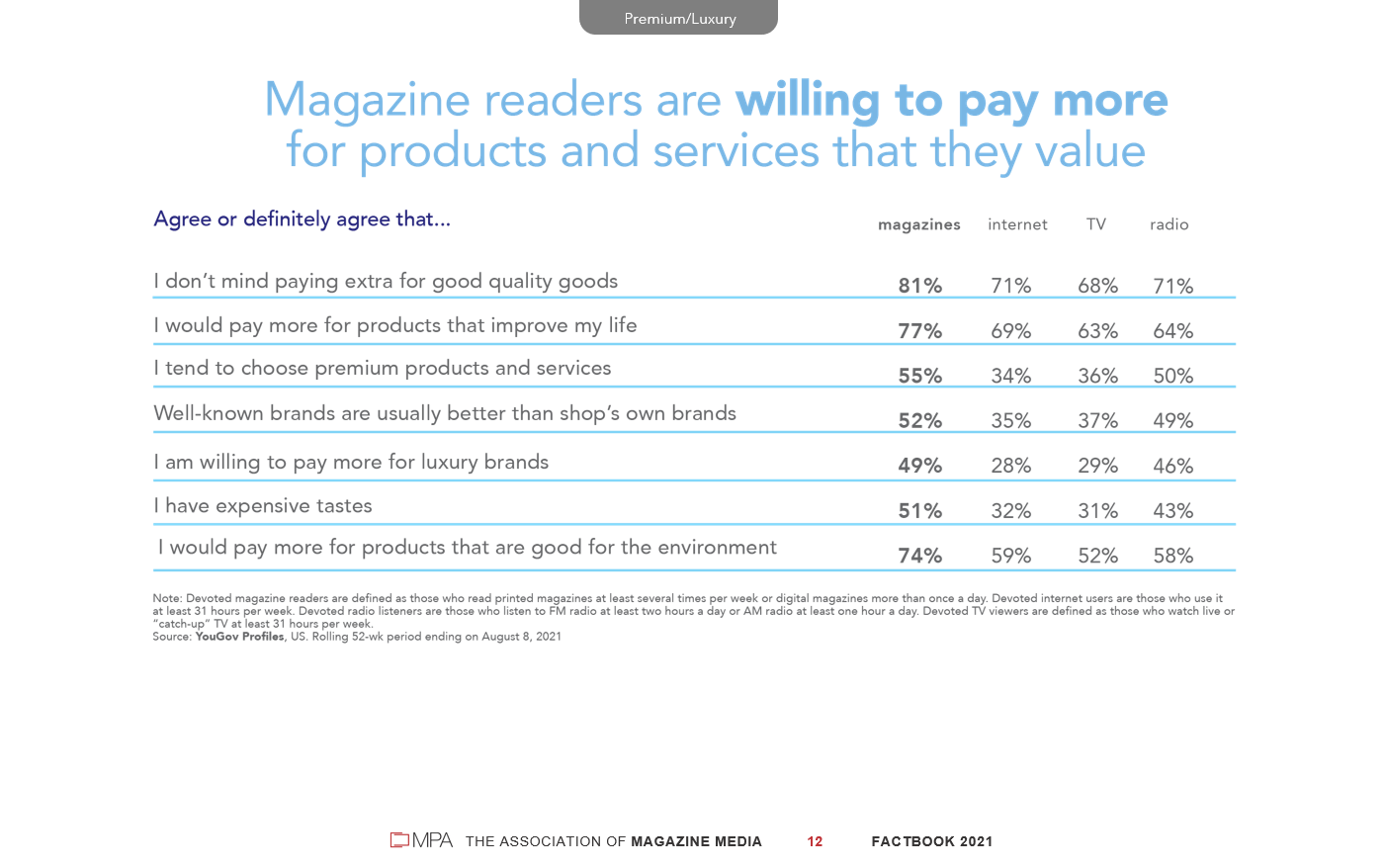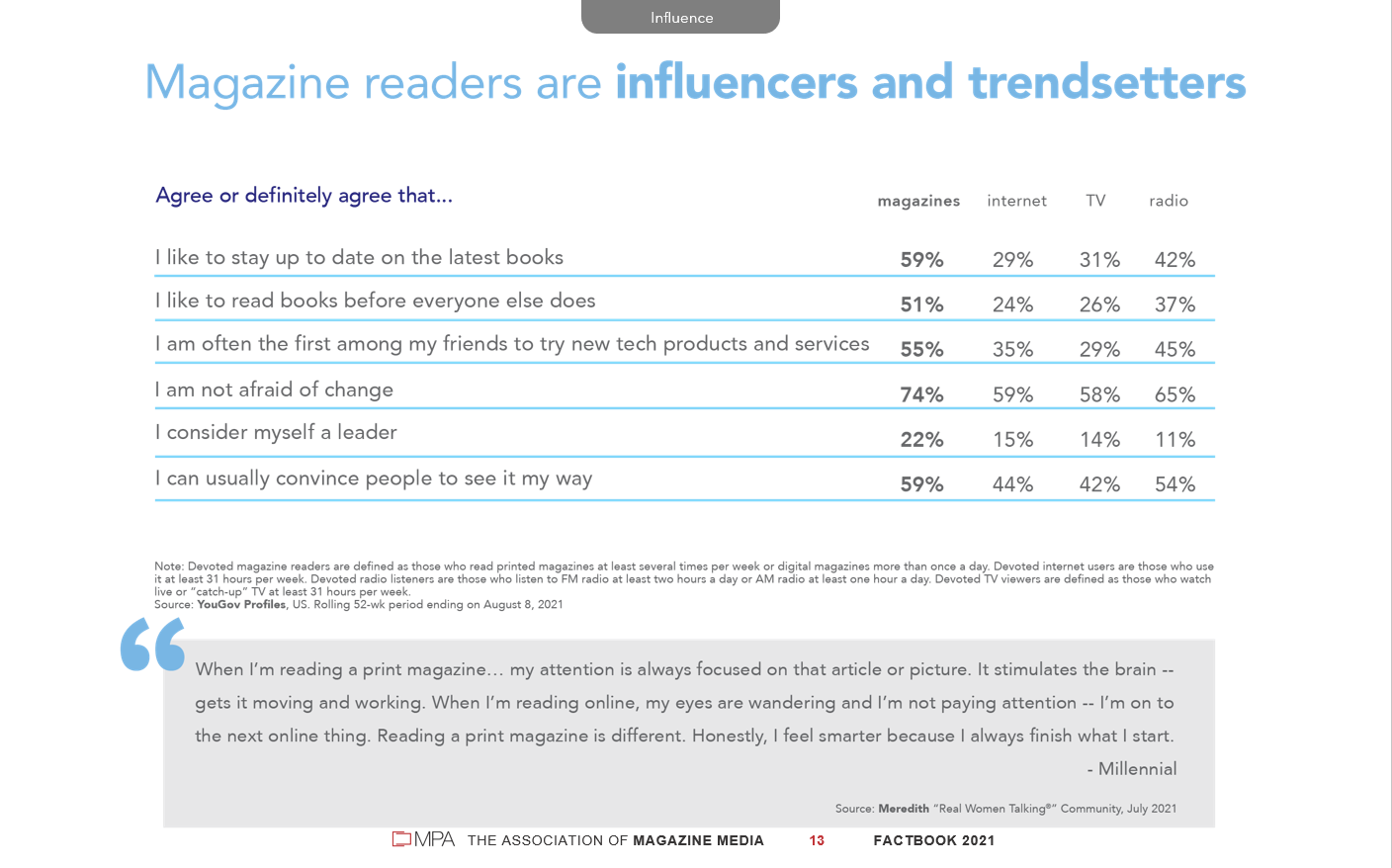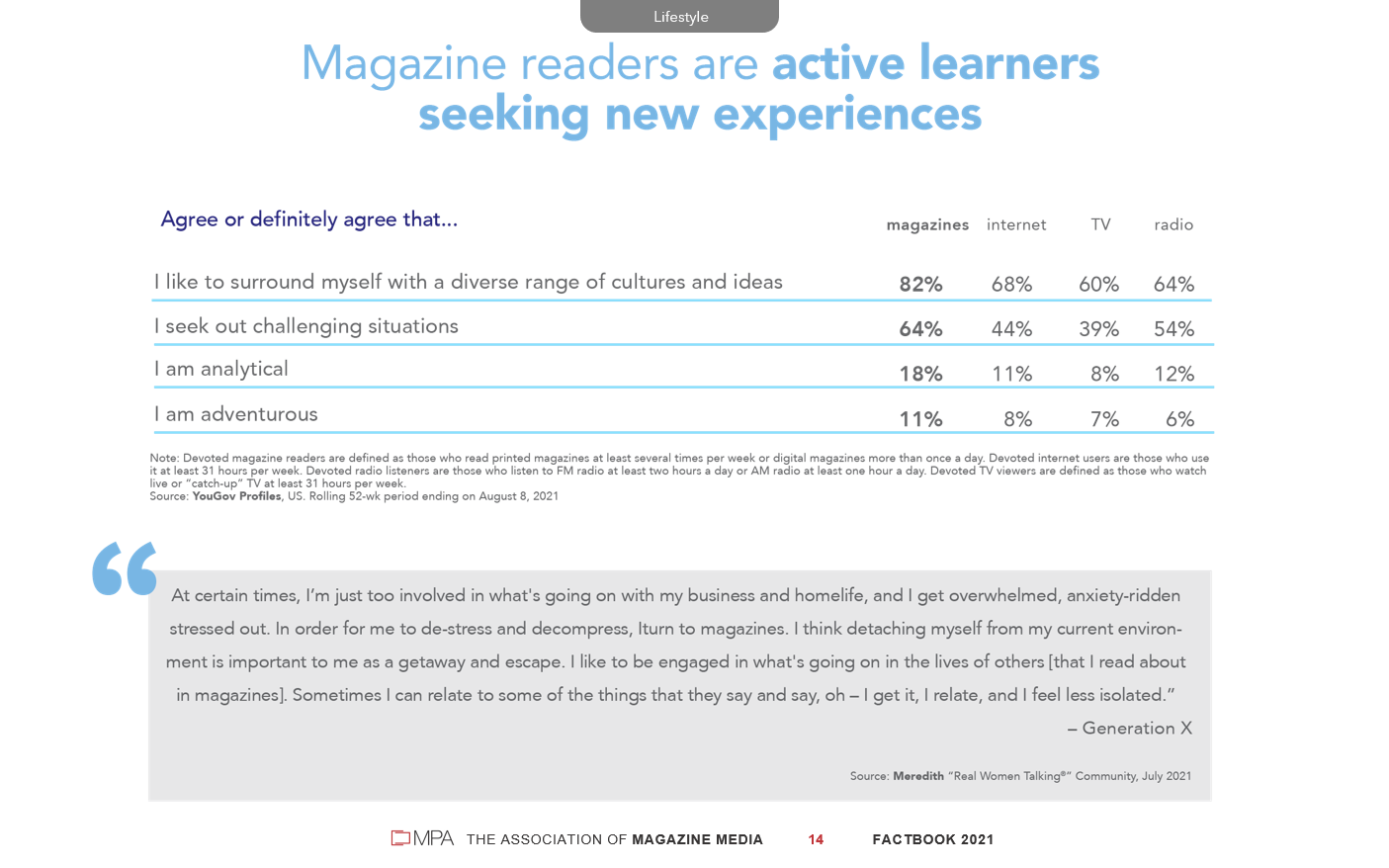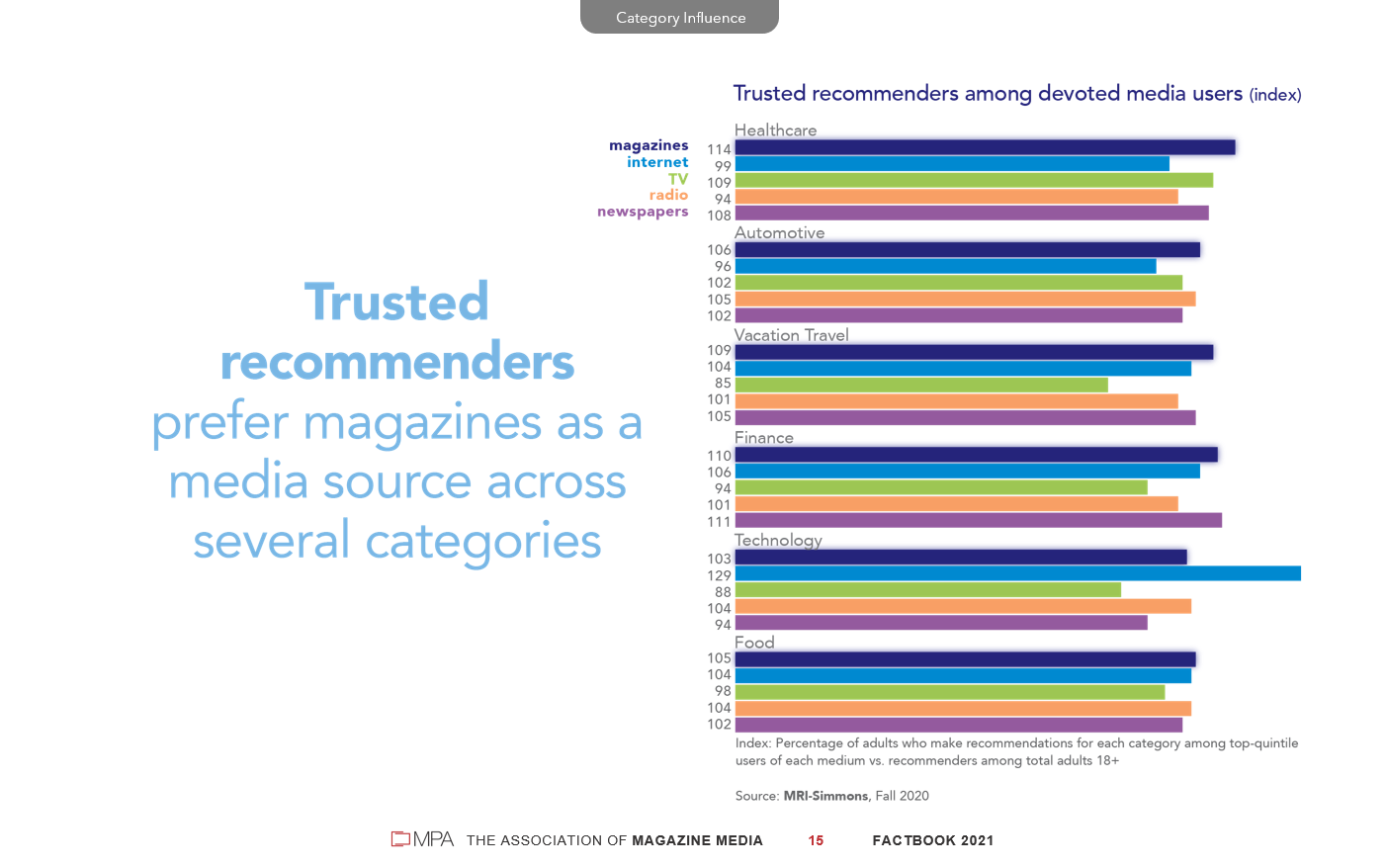 7. Growth
Consumers continue to demand the specialized and trusted content and advertisements that print magazine brands offer. Adding mobile web, web, and video interactions to print and digital readership, the cumulative number of magazine brand interactions grew to from 1.51 billion (in 2019) to 1.56 billion in 2020. Crowdtangle, a company that measures social media interactions, tells us that print magazine brand followers on Facebook and Instagram grew from 667 million to 697 million as of March 2021. It seems, then, that print magazines are now stronger than ever.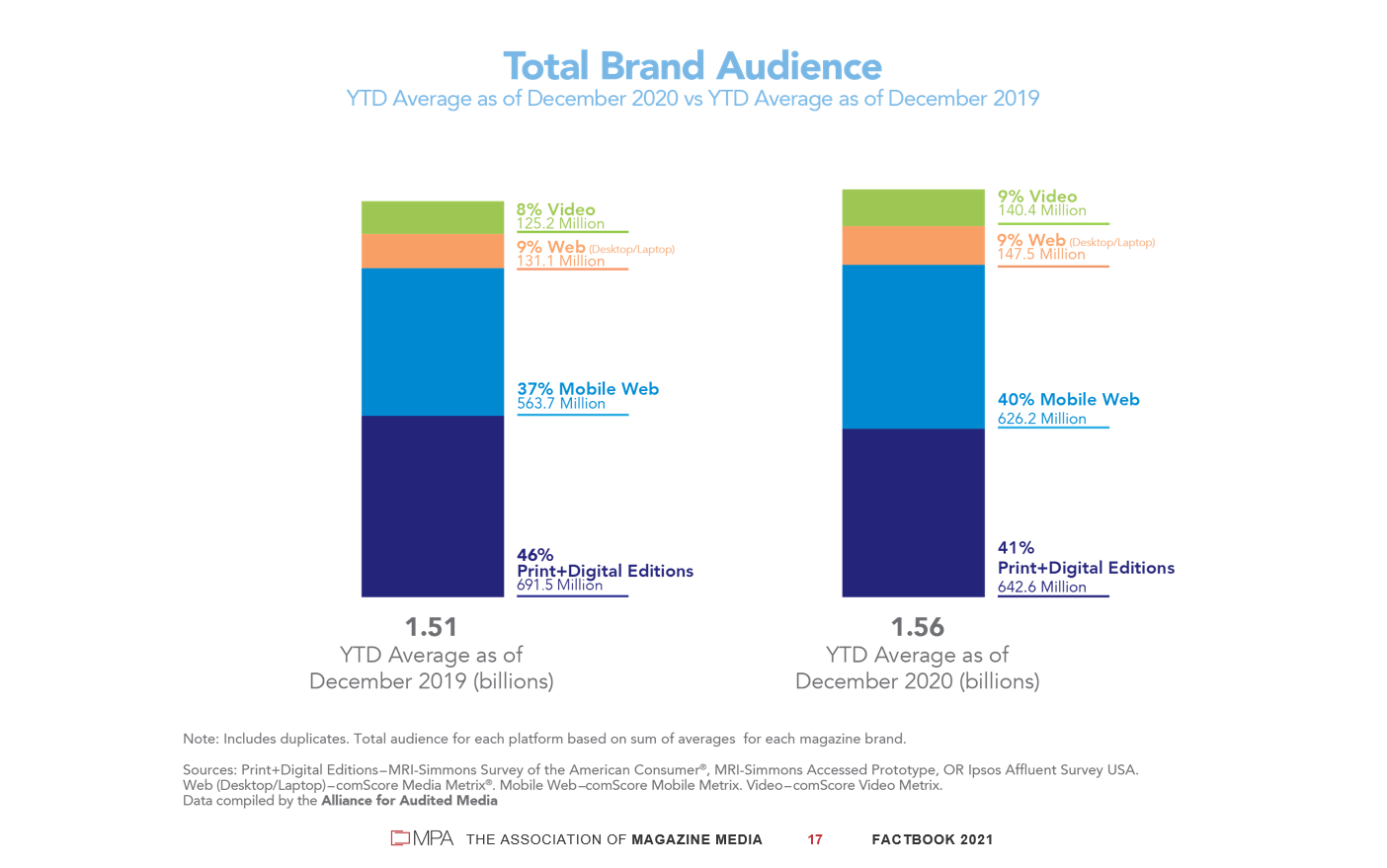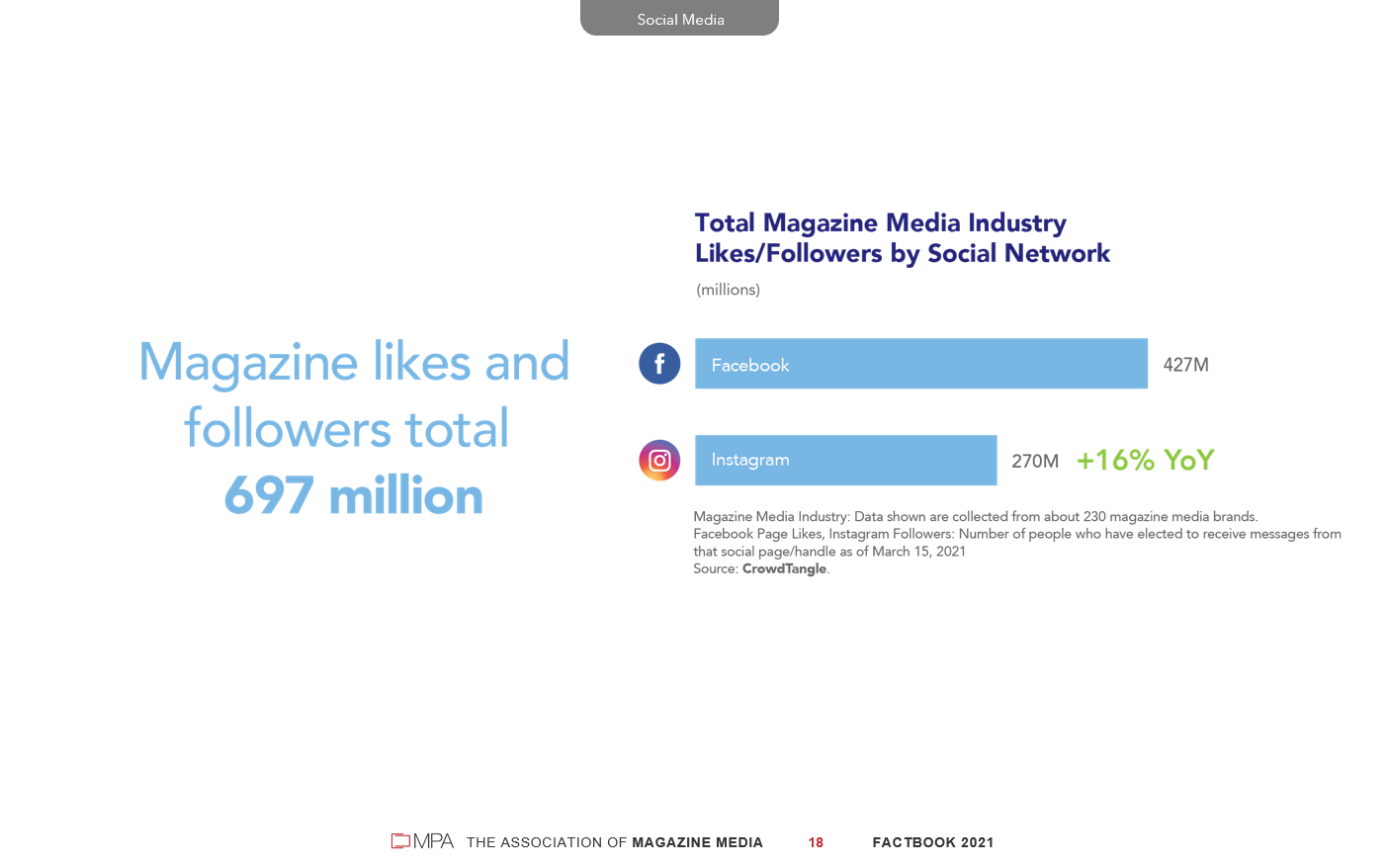 I could go on, but in lieu of spoiling the freshly launched 2021 Magazine Media Factbook, I invite you to download a copy of your own here. Enjoy!